History & Heritage
5.12.2020
Middle Eastern art collections to virtually navigate from confinement
As museums across continents remain shut to the public in reaction to the coronavirus, the doors to the virtual sphere have unlocked, with virtual reality and digitization popularizing among museums who adapt to months of cancelled events and exhibitions. Here are some galleries showcasing prized Middle Eastern collections on the virtual sphere, which you can visit freely from your confinement spot.
The Dalloul Art Foundation (Beirut)

As the largest archive and collection of Arab art, its ambitious new website launched just days after the first confirmed cases of coronavirus in Lebanon presenting over 3,000 works of art. The foundation's research and cataloging has also been digitized, organized alphabetically by artist, exposing their works, a biography, a record of past exhibitions, and, often, exclusive in-the-making video content. The virtual reality and walk-through feature has been announced for the near future.
Check the digital collection here.
Alserkal Avenue (Dubai)

Now accessible are more than 15 galleries and 80 artists' work in this 360 degree view and responsive VR system. User-friendly buttons will allow you to wander around, and handy digital tape will allow you to measure the works, including towering sculptures, to help you understand the scale of each piece.
Check the virtual tour here.
Arab World Institute (Paris)

Just in time for the world-wide lockdowns, this grandiose cultural center on the Arab civilisation coincidentally launched its online cultural portal named Altair. By just logging onto their platform, 120,000 items are instantly yours to access, from visual art pieces to audio and video. The vast selection of resources are easily searchable, as they are strategically grouped by their content matter: from Arabic language and calligraphy to culinary traditions and musical pieces.
Check the portal here.
The Rijksmuseum (Amsterdam)

Their virtual reality tour is filled with precious artwork from all regions and time periods, and their collections from the Middle East are plentiful and high in resolution. Furthermore, the artwork can be downloaded and even created into a personalized "studio" collection composed of one's favorite works.
Check the virtual tour here.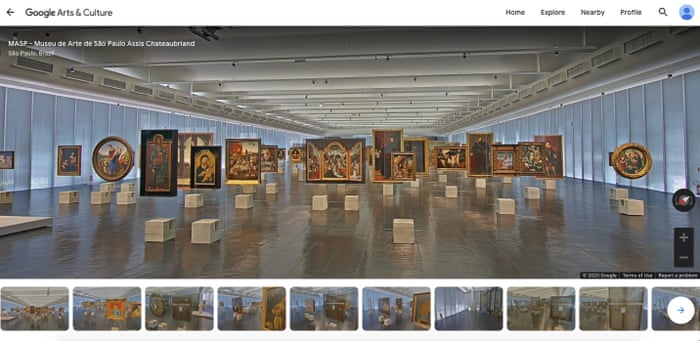 According to Google, searches for the term "virtual tour" multiplied seven times from February to March, jumping from 1,300 to almost 10,000, a direct correlation to the decision taken around that time, by governments around the world, to start prohibiting on non-essential activities. The hastened push towards digitization and virtual reality, however, grants us the ability to visit more museums than previously possible, far beyond this curated KAWA selection.