This bracelet detects epileptic seizures through artificial intelligence
To brave the unpredictability of epileptic seizures, three young tunisian entrepreneurs engineered a bracelet for users to monitor their own condition and most crucially, automatically contact their caregivers within seconds of a fit. Since their launch in 2017, Epilert continues to prevent epileptic fatalities and hopes to advance medical treatments by working closely with Tunisian doctors.
The sleek arm band compiles constantly-evolving data, unique to each user and its lifestyle, enabling them to gain more control over their debilitating condition. Within 30 seconds of a seizure, through either text messages or automated phone calls, Epilert will inform the referenced caregivers on  seizure's severity and the patient's location. 
The carefully crafted device monitors heartbeat, temperature, neurological physiological data to intercept a potentially fatal episode. A warning appears if those numbers strays for the patient's norms.
The device also predicts when a seizure is likely. 
Epilepsies, despite their many forms, all start from the brain. We are also learning how little we do know about this powerhouse of an organ, making epilepsy that much harder to manage. 
Nevertheless, they are known to be triggered by external factors, so knowing those in advance could prevent incoming episodes. Common triggers include fatigue, stress, alcohol, or neglecting to take necessary medication.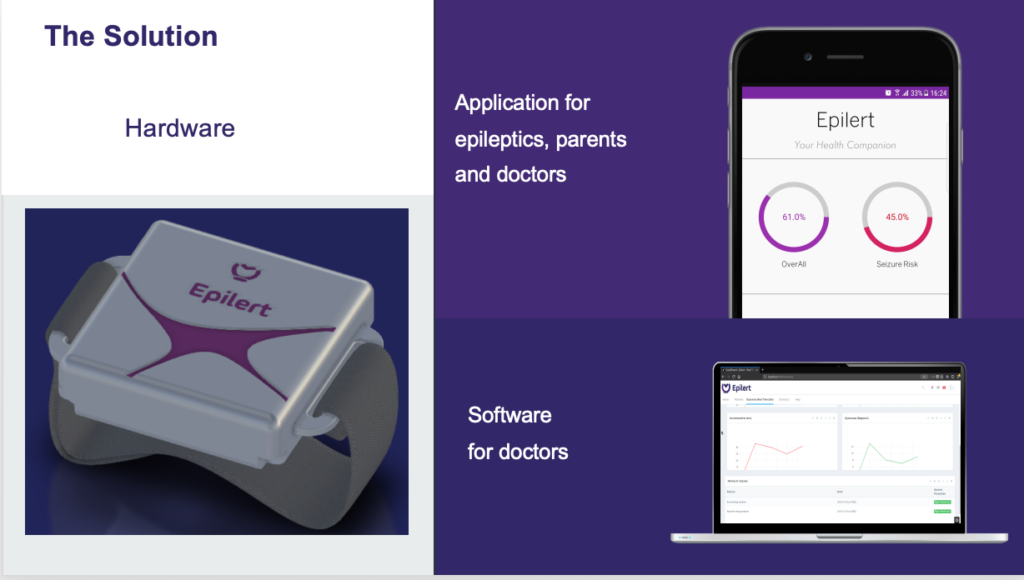 The minds behind the product
Speaking with Haroun Moula, the Co-Founder and Chief Operating Officer of Epilert, it is hard to believe that he is only twenty-five, yet if he managed to break into the rigid field of medical technology at such a young age, it is certainly by embracing his still-ingenuous perspective. 
"Medical technology is a field where experience and resources are often necessary and there are high regulatory barriers." Haroun goes on to rectify that "when you are young you may not be fully aware of such a fact, so you just go for it and then, down the line, you figure it all out."
Leading this business venture in Tunis certainly helps, as the capital of Tunisia germinates into a major hub for youth initiatives. Haroun also credits talent as the biggest asset of the country.
Their team's talent resides in working through the complexity of artificial intelligence, behind the scenes and simplify it as much as possible for users that already face an array of complications. 
"We simply offer more data for everyone. Once you have more data, it leads to better analysis and diagnosis which reduces the mystery and improves the science around epilepsy and neurology as a whole," he expresses in a humble tone. 
The start-up has ambitious plans
Epilepsy is one of the most widespread chronic neurological disorders, which knows no geographical boundaries. The World Health Organization estimates that 50 million people of all ages around the world are affected by epilepsy, with 4.7 million living in the Eastern Mediterranean region. 
After recognition within the local medical community and solid customer feedback, the startup is ready to expand beyond the region. Preclinical trials of the Epilert are underway to file for regulatory approval to enter the US market. Moula, the 27-year-old founder, expects to receive the go-ahead by the end of 2020.
"We hope to get promising research outcomes and that technology succeeds in facilitating the life of people with chronic diseases to enable them to live like normal people" Haroun concludes.