For the second year in a row, two restaurants offering Arabic and Oriental-inspired cuisine are being honored by the "Bible" of high gastronomy: Maydan, which blends different Middle Eastern specialties in Washington and the Moroccan Mourad in San Francisco.
Maydan
When you push the door to Maydan's place, you can't miss them. The flames of the grill fire impose themselves and sometimes dance up to 1.5 meters in the middle of the kitchen open to the room, hypnotizing the customer who turns around and takes pictures, also creating discussion. This warmth and sharing is at the heart of the experience offered by Rose Previte and her chefs Gerald Addison and Chris Morgan. À la carte, dishes to share, proposed in the form of Mezze, recipes gleaned beyond the borders of the Middle East, North Africa or Georgia.
At the table, kebabs, grilled lamb and fish coexist with roasted vegetables, hummus or halloumi. Smoky flavours, bound by spices and other condiments. The whole is based around flatbread rolls, prepared and baked over a wood fire with special attention. If the fire is too high or too low, the bread may be too soft or too crunchy and will spoil the conviviality. Because that's what Rose Previte wanted when she imagined her restaurant. A convivial place, a table of discovery, where you feel like at the market in the medina.
Mourad 
On the ground floor of the PacBell Building, a recently renovated San Francisco skyscraper, is the restaurant of chef Mourad Lahlou. At Mourad's, the atmosphere is quite different, Glamour. In the kitchen as well as in the dining room, the chef has immersed himself in his Moroccan roots which he reinterprets allied with Californian influences. It offers an innovative, vibrant and richly flavoured home-cooked cuisine made with local products.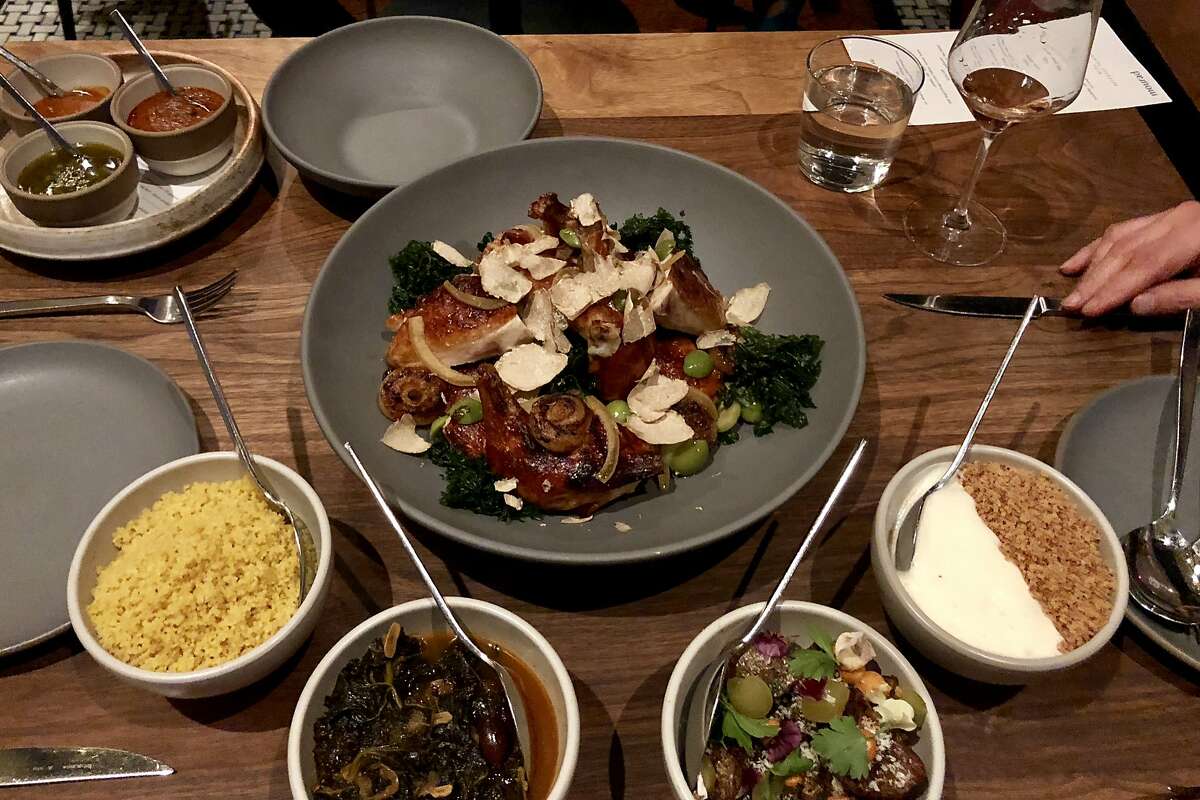 Here, we do not hesitate to embellish the couscous with hazelnut butter or to make duck and cocoa butter cohabit in a traditional pastilla. Three menus are proposed: the 18 dishes to choose from à la carte; a tasting menu comprising 12 dishes; or one of the four La'acha, a Moroccan-style dinner, including 4 side dishes. From the appetizer to the desserts, the presentation and the meticulous details are in keeping with the place. Nothing is left to chance and it pays off.